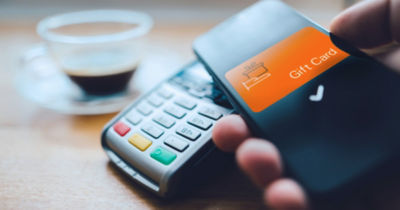 Nearly 30 years after its introduction as a method for consumers to pay for Blockbuster Video rentals, the gift card has evolved into a multi-purpose tool that brands and consumers are putting to use in new and innovative ways.
The modern gift card is being used to stretch consumer buying power and combat inflation, to recognize and incentivize employees, and as a point of innovation to support sustainability and social good.
Consumers are using gift cards to stretch their dollars
With inflation straining consumer wallets, gift card promotions that offer discounts or bonuses have become popular among consumers. According to a Fiserv proprietary consumer survey, 67%1 of consumers said these promotions influence them to purchase more gift cards from a retailer; and 54%1 purchased a gift card because of a promotional offer.
Savvy retailers are leaning into the trend and using creative promotions to drive current and future gift card sales. Discounts and bonus cards are a great place to start, but we are also seeing retailers' partner with complementary businesses on creative promotions — such as prepaid "dinner and a movie" cards offered by theaters and restaurants — to give consumers the ability to purchase a discounted date night.
Conscientious consumers
Fiserv consumer polling highlights that 63%1of consumers say that gift cards made from sustainable or biodegradable materials are an important innovation; and 49%1 of consumers said a company's position on sustainability influences their desire to purchase from that business.
As consumers increasingly care about the social posture of brands they are affiliated with, retailers can leverage their gift card programs to have a positive environmental and social impact. In fact, many brands are moving away from plastic gift cards — and not just in favor of digital. Recent innovations are allowing brands to use cards that place a magnetic stripe on paper and even wooden cards. Other brands are using their gift card programs as a channel for giving back, such as a restaurant chain that donated a free meal to local hospital workers for every $10 gift card a customer purchased.
Physical gift cards vs. digital gift cards
While use cases for digital gift cards are growing in popularity, 62%1 of consumers still prefer physical gift cards because they offer them a tangible gift to wrap up, place in a greeting card, or stuff in a stocking.
While digital innovation remains top of mind, retailers must not forget about the tried-and-true physical card. Keeping physical cards stocked and visible at the checkout counter is essential, as they remain the preferred grab-and-go gift for the last-minute shopper.
Gift card benefits for employees
A rapidly growing gift card trend is their adoption as the preferred incentive for employees. Sixty percent1 of consumers that Fiserv surveyed received a gift card as an incentive from their employer in 2022, a significant increase from just 32%1 that received a gift card as an incentive in in 2019. And 85%1 even say they prefer a gift card, proving that today's employees are more than willing to forego coffee mugs and fruit baskets for a gift that provides flexibility.
For three decades gift cards have remained at the forefront of every retailer's toolkit, providing a direct means for driving sales, boosting branding awareness, and fostering customer loyalty. Now evolving consumer preferences are shaping a future for gift cards that extends well beyond allowing customers to pay with branded currency.
Through innovation and creativity, retailers can use gifts cards to address the needs of the modern consumer, while continuing to reinforce brand loyalty. To learn more, contact a Carat expert today.