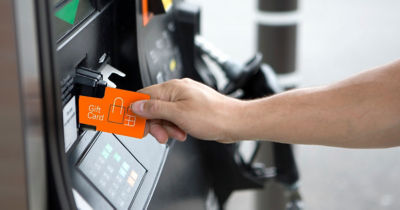 As inflation continues to impact everyday purchases, a conflicting job market further makes gift card trends even harder to pinpoint. Slightly more than half of consumers (54%) say that their gift card usage will change this year. Despite this economic uncertainty, 2023 provides new opportunities for merchants to engage consumers with gift cards.
Conducted in January 2023, the Q1 Gift Card Gauge from Fiserv assessed consumers' attitudes about gift cards — providing good insights to what merchants should expect in 2023.
Consumers adjust habits due to inflation
Purchasing power has decreased during inflation. As they tighten their proverbial purse strings, consumers' perceptions of how they use gift cards also are changing. Over 1 in 4 (27%) of consumers are planning on using gift cards to buy items of need, with another 22% relying on gift cards to offset prices of everyday items such as groceries and gasoline.
Just how valuable are gift cards to consumers? Over 70% said they will save a gift card with $.50 left for a future purchase, while 42% will wait for a merchant promotion to further stretch their gift card value. It's safe to say that penny-pinching is "in".
Gift cards key in milestone celebrations
When there's cause for a celebration, nearly two-thirds (61%) of modern-day consumers turn to gift cards to help commemorate milestones in peoples' lives.
While birthdays and winter holidays remain the standard for gift card purchases, consumers also will be eyeing other events in 2023. Specifically, 44% will buy gift cards to say "congratulations", 33% to commemorate high school and college graduations, and 30% to say "thank you".
Nearly two thirds (60%) of consumers say they will purchase physical gift cards this year. When asked what specific designs and styles they want, 30% prefer cards that depict the milestone event.
With consumers' relying on gift card gifting year-round, merchants should stock-up on supplies, and drive additional revenue by planning gift card promotions.
Consumers love loyalty programs
As inflation continues to impact purchasing power, loyalty programs are becoming even more important for consumers to reduce costs. While it's not surprising that nearly three-quarters of consumers (73%) join loyalty programs, 78% said they would like to use loyalty points to buy a gift card, including over 75% of consumers aged 18-44.
This expectation for cash-based rewards is impacting where consumers place their brand loyalty in today's marketplace. For merchants looking to differentiate themselves, evaluating and upgrading your loyalty programs could be a great first step.
2023 gift card wishlist
Regardless of market conditions, gift cards remain front and center for most consumers. Aside from loyal customers, merchants should not overlook promoting gift cards to the procrastinators (53% need a last-minute gift), undecided (50% don't know what to buy), and discount shoppers (48% look for gift card promotions).
Consumers are mixed on what size business they're focusing on for their purchases. 44% of consumers predominantly will look to major brands, and another 40% plan to buy at a mix of major brands and smaller businesses.
Consumers are more evenly split on where they will buy their gift cards from. The most popular options are distributors that offer gift cards for multiple brands (34%), a specific merchant storefront (31%), or a specific merchant website (30%). These trends suggest that merchants should provide both a digital and physical gift card purchasing experience.
Check out more findings from the Q1 2023 Gift Card Gauge.
The Q1 Gift Card Gauge from Fiserv is a survey of over 1,000 U.S. consumers aged 18 and older. Conducted in January 2023, the survey helps merchants better understand industry trends and how consumers use gift cards. The margin of error for this Gauge is +/- 3%.