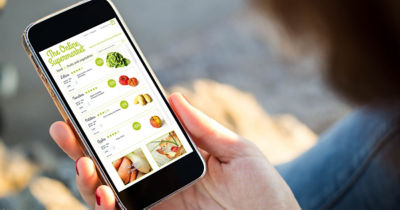 During these unprecedented times, due to the ongoing pandemic, Americans are increasingly relying on government food assistance. Even before COVID, 40 million citizens depended on some form of state and federal electronic Supplemental Nutrition Assistance Program (SNAP). The sudden reduction of economic activity nationwide has resulted in a drastic spike in unemployment. This likely accounts for the 80% rise in applications for government food assistance.
At the same time, consumers are gravitating toward touchless payment methods to reduce potential exposure to COVID-19. In fact, consumers are using contactless payments 10 times more frequently than before the pandemic struck.
As more stores offer online shopping options, there is a growing need to help ensure Supplemental Nutrition Assistance Program (SNAP) offer electronic benefit transfer (EBT) payment options. Enabling citizens to pay with EBT online can be vital to ecommerce sales.
SNAP Online Pilot Program Expands
According to Molly Pfaffenroth, Director of Government Relations for the National Grocers Association (NGA), independent grocers have expressed a growing interest in participating in SNAP Online. "The United States Department of Agriculture (USDA) Food and Nutrition Service (FNS) has opened up requests for volunteers to the current pilot program in order to better serve SNAP communities across the country during this very difficult time," explained Pfaffenroth in a recent webinar hosted by Fisev.
Pfaffenroth points out that merchants face the same challenges offering SNAP Online as they would any ecommerce solutions. For delivery or curbside pickup services, retail or grocery store employees must do the physical shopping on behalf of the customer, which means merchants have to have the infrastructure in place to handle this increased demand on personnel.
Navigating the SNAP Online Approval Process
For merchants that operate in states with approved SNAP Online programs, the authorization process is as follows. First, brick-and-mortar stores must have an established ecommerce presence. Next, they must file a formal Letter of Intent with the USDA FNS. This Letter ensures merchants have met critical requirements, such as integration with a secure online PIN entry provider. Also, that their website can manage error handling and messaging to customers based on that integration. Stores have to be able demonstrate that they can map refunds back to the original purchase. Another consideration is being sure that only one SNAP card is provisioned per customer account.
Another requirement is that merchant websites must ensure that only eligible foods can be purchased with SNAP benefits, and that sales tax is not charged for SNAP purchases. These are practices that have been in place for brick-and-mortar operations for some time, and now must be ported over to the e-commerce side of operations. Merchants must be able to provide FSN with a delivery or pickup address for every EBT transaction. And websites must also be certified as Protected Personal Information (PPI) compliant, ensuring that privacy practices and policies are in place.
Pfaffenroth adds that the NGA stands ready to help merchants in putting together their Letter of Intent.
The Final Step in Achieving EBT Online
Once the merchant letter of intent has been approved, the final piece of the puzzle is integration of a secure online PIN-on-Glass entry that can be optimized for mobile via a partner, such as Fiserv.
"The only difference for a merchant in accepting a regular credit or debit payment versus an EBT card payment is the need to authenticate the EBT account through a proper ID," explained Brad Goad, Vice President, Business Development & Solutions for Fiserv. "This is accomplished through a certified, secure PIN-on-Glass pad, which is made possible by an API. In the end, all of this technology is seamless, keeping the customer journey as much business-as-usual as possible."
For merchants in states that are not yet part of the SNAP Online purchasing pilot, an intermediate workaround is available. Goad says that stores can deploy a device, such as Clover Flex for curbside acceptance of EBT, along with credit, debit and gift cards. A similar approach can be taken for delivery services.
If your business needs help enabling customers to pay with EBT online or providing contactless payments, visit our Enterprise Solutions for COVID-19 page or schedule a free consultation with Fiserv's team of experts.