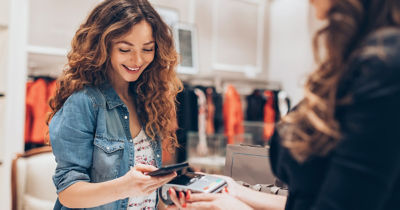 Although overall inflation has cooled, the cost of goods remains high, which means consumers may have to dig deeper into their pockets to shop for the holidays. According to gift card stats from the Q3 2023 Gift Card Gauge, over 1 in 4 U.S. consumers (27%)1 plan to spend more on gift purchases this season compared to last year (21%)1.
Conducted in July 2023, Fiserv assessed people's planned gift card spending and other shopping habits for the upcoming holiday season among today's inflationary consumer-goods market.
Consumers are getting a jump on their peak season shopping
In addition to high-priced goods, consumers continue to also face supply chain concerns, leading many to shop smarter by starting their peak season shopping early. Two in five consumers have already started their holiday shopping, a 25% increase from last year at this time (32%)1.
Of those shopping, many are focused on product availability and cost. Nearly two-thirds (63%)1 of shoppers are making purchases as they find available options while more than half (54%)1 are spreading out their spending over time to combat inflation.
Discounts and promotions are also influencing consumers' decisions to purchase. Specifically, 28%1 are shopping earlier to take advantage of discounts and promotions, while 31%1 are waiting on annual shopping events like Black Friday and Cyber Monday in anticipation of price breaks and other deals. Retailers should capitalize on these trends by offering incentives to shop now.
Consumers' gift card wants and expectations help retailers plan accordingly
While the price of consumer goods continues to fluctuate, the values of gift cards remain the same. As a result, shoppers will be relying on gift cards this holiday season.
Retailers can merchandise gift cards knowing two-thirds of consumers will buy them directly from the merchant where the gift card will be redeemed. Over half (56%)1 will also plan to purchase gift cards from affiliated brick-and-mortar resellers offering multiple gift card options.
When it comes to in-store placement, 46%1 of shoppers expect to find gift cards near the checkout area, which prompts impulse buying, while 36%1 presume they will be housed in their own endcap toward the front of the store. Retailers may want to place greeting cards and gift cards close together since 40%1 of consumers use the former as gift wrapping.
If your location offers preloaded card options, consider stocking-up on $25 and $50 gift cards. Nearly half (47%)1 of consumers are likely to spend a minimum of $25 per gift card this holiday season and one-quarter 1 expect to spend at least $50 per gift card.
Enhance the gifting experience
Pairing two services or items together might prompt shoppers to purchase more diverse types of gift cards. Two-thirds of consumers say they would be interested or very interested in a gift card featuring a partnership from multiple companies to create a complete experience. Think dinner and a movie for a relaxing night out, or a cooking class with wine tasting.
Additionally, when selling gift cards for services, don't forget about the tip. Over two in five consumers (44%)1 say they factor in tipping when buying gift cards for services like a massage, manicure, etc.
Lastly, for merchants looking to expand their gift card program, 57%1 of consumers put gift cards with more multivendor options on their 2023 wish list. The more options provided, the better.
Click here for more findings from the Q3 2023 Gift Card Gauge.
Conducted in July 2023, Fiserv's Q3 2023 Gift Card Gauge is a survey of over 1,000 U.S. consumers aged 18 and older, conducted to help merchants better understand industry trends and how consumers use gift cards. The margin of error for this Gauge is +/- 3%.
1 Source: Q3 Gift Card Gauge proprietary consumer insights survey