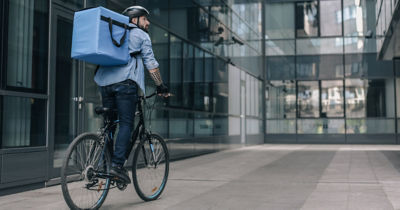 Food delivery has grown rapidly in recent years, shifting the customer engagement model for restaurants as consumers embrace digital ordering. The market for online food delivery surpassed $215 billion in 2022, and is expected to grow nearly 11% through 2028, to $388 billion.
With the economy tightening in 2023, restaurants are pushed to both address these issues for consumers with tighter budgets. Those that do so effectively are likely to emerge as winners in the industry's rapidly growing delivery market. With that in mind, here are three ways restaurants can optimize their delivery infrastructure to operate more efficiently, reduce costs, and create better customer experiences.
1. Regain control of the brand experience
As food delivery grew rapidly during the pandemic, many restaurants turned to third-party delivery services to keeps their kitchens humming. While these services provided a much needed connection point to consumers at the time, they also compromised components of the brand experience. As an example, third party-services have their own loyalty and rewards programs to engage customers, and may even promote competing brands to a customer based on their purchase history with your restaurant. These approaches are not ideal for any restaurant brand.
In our digital-first world, it is imperative for restaurants to regain control of the ordering experience and leverage their own digital infrastructure (online or in-app) when accepting delivery orders. Doing so promotes a better brand experience by driving more digital engagement with the restaurant. This helps simplify everything from customer feedback loops to ensuring the customer is receiving accurate menu information for each location. Additionally, digitally engaged customers are more likely to participate in a restaurant's loyalty program and can leverage the restaurant's closed loop gift cards. The restaurant also can more easily market special offers and promotions directly to these customers.
2. Tap into a broad network of providers
With the brand experience under control, restaurants can now focus on streamlining last mile delivery of food. Rather than having an exclusive delivery provider in a given market, many restaurants are choosing to tap into broad networks of providers that will compete for their restaurant's delivery business. By leveraging a delivery management platform that can connect to multiple different third-party delivery services, restaurants can reduce costs by dynamically routing each order based on expected delivery times, cost for using each provider, and customer preferences.
Tapping into a broad network of providers allows restaurants to execute deliveries with maximum efficiency.
3. Enhance settlement flows
Payment settlement comprises the 'nuts and bolts' of any commerce transaction, ensuring money moves when and where it needs to so all parties are made whole. Settlement has also become a critical pain point for online delivery. With several parties (consumer, franchise, restaurant, driver, delivery service provider) involved, a percentage of every transaction must move to multiple stakeholders – complexity that has historically led to inefficient and sub-optimal solutions that expose restaurants to several risk factors.
Restaurants can get paid faster by leveraging an authorization of a single digital transaction to facilitate same day settlement across complex value chains involving multiple parties. These capabilities also significantly reducing risk factors such as fraud, which can be very costly.
The pandemic forced restaurants to reimagine how they engage with customers, but the ultimate goal remained the same – deliver a memorable dining experience that builds customer loyalty. By making adjustments to their delivery operations, restaurants can do just that, executing with more efficiency as they strengthen experiences and build digital connections with their customers.
Learn more about our Omnichannel Commerce solutions or contact us if your business needs help deploying innovative technologies to optimize payments and enhance experiences.
Article originally published on Hopitalitytech.com.