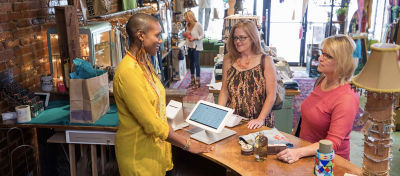 Information for Small Businesses, Large Businesses, and Financial Institutions
Today's shoppers want options, and they rarely pay with cash. In fact, nearly 90 percent;of consumers typically pay with credit cards, debit cards, checks or electronic payments. If you make it difficult for these shoppers to use their preferred payment methods, they may postpone purchases or take their business elsewhere. 
Our merchant services let you connect with customers no matter where you run your business. We have payment solutions for brick-and-mortar retailers, online shops and on-the-go merchants who sell goods at craft fairs or farmers markets. Simply put, our merchant services make it possible for you to receive non-cash payments through a secure channel. This simplifies transactions for your business and your customers.
The Basics of Merchant Services
Accepting non-cash payments is not as simple as putting up a sign that says you take credit and debit cards. You must first create a business relationship with each provider, and then you need the right software and payment processing equipment. This may include point-of-sale (POS) terminals, credit card processors, check readers and gift card scanners.
We act as a middleman between your business and extensive assortment of security and fraud solutions, including each payment provider, saving you time and helping prevent costly mistakes. We review your company's sales and goals to recommend appropriate merchant solutions. Once we get the go-ahead from you, we connect your business with reputable financial institutions that issue debit cards, credit cards, prepaid cards, digital payments and checks. We also help you manage branded loyalty programs and gift cards.
How Merchant Services Work
Merchant services are tailored toward your company's needs. We help your business process credit and debit payments and accept chip-enabled payments through mobile devices. We do this using encrypted channels that protect your customers' sensitive information and the private data your company transmits.
Many new merchants come to us with horror stories about security breaches they've experienced with other companies. We understand your concerns, which is why we carefully train trustworthy employees before letting them recommend or develop merchant solutions for your company. At First Data, we work hard to protect your business from fraud and abuse 24 hours a day, 365 days a year.
Solutions That Tie to Merchant Services
Each business has different needs, so we help you determine which solutions work best for your company. We may recommend debit and credit card processing, gift card and loyalty programs, online payments, mobile payments, electronic benefit transfers or a combination of solutions.
There's no pressure; you are free to decline any services you feel will not benefit your company. Here are some common merchant services solutions we recommend to businesses.
Debit Card and Credit Card
It's frustrating watching a customer fumble around for change as the line grows behind them. It's equally frustrating when customers get stuck waiting on cashiers who are out of pennies or slowly count back change.
Credit and debit cards eliminate these issues. It takes just 1.9 seconds to process credit and debit transactions through our secure data transaction systems, and our systems are compatible with POS software. Worldwide, First Data processes more than 88 billion transactions per year, so we have extensive experience with popular payment systems.
We can help your business accept card payments from nearly any financial institution or credit card issuer, including:
American Express®
Discover®
MasterCard®
Diners Club International®
Visa®
PIN-based debit cards
Prepaid debit cards
Don't see a company you want on our list? Ask us about it. We work with nearly every well-known financial institution across the globe.
Gift Card and Loyalty Programs
You value your customers, but how well do you show your gratitude? Let your customers know you appreciate their repeat business by offering loyalty programs with exclusive discounts and rewards. We can create a custom loyalty program that benefits your customers while increasing your profit margin.
We also offer gift card solutions for small and large businesses. Gift cards encourage customers to share your business with loved ones, and they eliminate the risks associated with credit, debit and check payments.
Online Payments
Your customers want to shop at their convenience, even if your brick-and-mortar stores are closed. Online payment solutions make it possible for shoppers to update their living rooms at 2 a.m. or book a massage appointment during their lunch break.
We realize some businesses are hesitant to offer online payments due to potential security issues. That's why we offer an extensive assortment of security and fraud solutions, including EMV Enablement and encryption and tokenization. We also focus on PCI compliance so you don't have to keep up with changing guidelines.
Payment Gateway
Payment gateways transfer data between payment processors and websites or mobile devices. This often eliminates the need for a physical debit card during purchases. PayPal, Square and Stripe are a few popular examples of payment gateways.
Payment gateways protect your business by encrypting transactions, verifying addresses or other personal information and analyzing velocity patterns. This helps reduce the risk of fraud during transactions.
Mobile Payments
First Data offers mobile payment solutions that customers want, including Apple Pay, Samsung and Google Pay. These secure mobile payment options simplify the buying process for customers by supporting wallet-free transactions.
Customers add debit cards, credit cards and gift cards to their mobile wallets and then wave or scan their phones during checkout. This safe payment process helps reduce fraud and identity theft by eliminating the need for customers to use physical cards in crowded checkout lines.
Electronic Benefit Transfer
Many merchants associate EBT cards with food stamps, but did you know they are also used for government benefits? That means your business can profit from accepting EBT cards, even if you don't sell edible goods.
We offer payment processors that let customers scan their EBT cards the same way they scan credit and debit cards. This saves time at the register and often eliminates the need for customers to announce they are paying with an EBT card. This protects your customers' privacy and reduces the stigma of using government-issued payments.
Why Do You Need Merchant Services?
You can't expect customers to pay with bills and coins for every purchase — even if you currently accept nothing but cash. As your business expands, your payment processing system should grow with it. That means incorporating merchant services that let you request and receive payments safely and easily.
Get information on how you can set up a Merchant Services account with First Data if you are a small business, large business or financial institution. Our professional team is here to assist you with any questions you have about merchant services for your business.