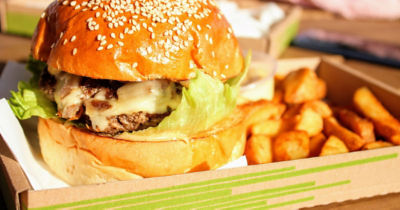 It is safe to say that none of us have ever been through anything quite like this before. The novel coronavirus pandemic has left no industry unscathed as more and more citizens are told to shelter-in-place, bringing commerce to a screeching halt. According to Nation's Restaurant News, as of March 23, all but seven U.S. states have officially banned in-store dining to combat the spread of COVID-19. No doubt more have since followed suit. Clearly, the impact to the restaurant business has been profound and, in many cases, earthshattering.
Everyone is scrambling to keep their businesses alive in this dramatically altered landscape, and some are faring better than others. With many customers focusing their dollars on grocery shopping, FSR Magazine reports that full-service restaurants have seen their "share of stomach" spend fall below five percent. At the same time, FSR found that grocery sales have skyrocketed 73 percent compared to last year. In the face of this tremendous drop-off in sales, many restaurants are left with take-out and delivery as their only source of business.
QSRs Are Uniquely Prepared for the New Normal
Not surprisingly, as curb-side pickup and delivery have become the only remaining options for restaurants, the quick-service restaurant (QSR) segment has seen an uptick in use of these services thanks to advanced digital commerce strategies and their unique ability to pivot operations to meet growing consumer demand for these services. Because many QSRs already have established drive-thru capabilities at most locations, and robust third-party delivery partnerships with Grubhub, Uber Eats, DoorDash and others, they have been more resilient than their full-service counterparts.
Barclays analyst, Jeffrey Bernstein, was quoted on CNBC as saying QSRs are best positioned to handle these new restaurant restrictions. "We note 65 to 70 percent of QSR sales come from the drive-thru (primarily outside large cities), 10 to 15 percent from takeout, and most recently a low single-digit percent from delivery.
Digital Platforms are Key to Fulfilling Current Online and Mobile Trends
Restaurants that have already embraced mobile and digital platforms have a decided advantage in this rapidly evolving marketplace. Whether it be for pickup or delivery, online ordering is the preferred choice for consumers who are increasingly looking for completely contactless transaction experiences.
The modern consumer demands a broad range of options when it comes to completing their transactions. Restaurants that not only accept online payment using credit and debit cards, but also Paypal, Apple Pay, Alipay, or other ACH payment options, have an advantage when catering to the digital consumer. Restaurants that don't already have drive-thru capabilities, or an established online or app-driven portal, are pivoting their businesses quickly to leverage handheld mobile point-of-sale (POS) devices, like Clover Flex, to expedite curbside payment acceptance for take-out orders done over the phone.
Supporting Restaurant Employees is More Important Than Ever
Restaurants have had to make incredibly difficult decisions regarding staff. Without in-store service, many are running on much smaller or even skeleton crews. Meal times, such as breakfast, have seen a dramatic drop in sales. This has led some businesses to split hours to keep as many working as possible. Others are redeploying staff to make deliveries.
For some, issuing payroll, whether it be for full-time or part-time employees, can be challenging, especially with concerns over personnel having to go to the bank or a check cashing center. Reloadable payment cards are becoming highly attractive alternatives for making payroll because they eliminate paper checks and can be easily used by employees for their own online and in-store purchases. This is one small way that restaurants are supporting their employees in this challenging time.
Taking care of employees, implementing rigorous cleaning and safety protocols, and offering curb-side pick-up and delivery services are just a few of the more prominent ways that restaurants are relying on to reassure customers that they are doing all they can to help out in these extraordinary times.
While the restaurant industry is being challenged in ways it never has before, it remains an industry that is vitally important to both the economy and to consumers. Yes, people are not able to eat out and fewer are ordering take-out. And that's difficult or even untenable for many businesses in the industry. One thing we know for certain is that when the coronavirus pandemic passes, those restaurants that have found a way to survive will have built tremendous loyalty - and that's something every business desires.
If you are a QSR or restaurant and need help accepting contactless payments, schedule a free consultation with Fiserv's team of experts today.