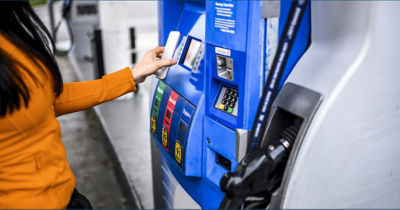 In no uncertain terms, March was a bad month for retail sales across the entire country. Since most U.S. states have implemented shelter-at-home edicts, few people are traveling anywhere – except to supermarkets, convenience stores and warehouse shopping centers. With no vacations, no restaurant visits, no family recreation or sports outings, and few if any business-related activities, demand for gas has been severely curtailed. A recent Energy Information Administration (EIA) weekly report found demand at a nearly 30 year low.
This drop in sales has been exacerbated by the dip in fuel prices, which have further cut revenue for gas station and convenience store operators.
According to recent Fiserv Spend Trend® data, food, beverage and grocery spend has remained at elevated levels, in large measure due to consumers eating at home. However, growth rates and ticket sizes did pull back during the third week of March as consumers began to re-align overall buying patterns.
The good news for the oil and gas industry is that the continuing strength in grocery sales includes convenience stores, which have been designated by Federal and State governments as essential businesses. Many convenience stores merchants are scrambling to manage the new realities brought about by the COVID-19 health crisis.
Rapid Shift to Meet Changing Customer Needs
To meet the rapidly shifting needs of customers, many convenience stores are stocking more staple items, such as bread, milk, toilet paper, paper towels, etc. Some, who have the technology infrastructure in place with mobile apps and online ordering capabilities, have added curbside pickup. Others are filling this gap through partnerships with delivery services such as Door Dash and Uber Eats, etc.
Installation of plexiglass shields at the checkout counter and sanitizing policies have been put in place in most stores to help protect customers and employees. Some stores have shortened business hours in order to accommodate more thorough cleaning procedures and more extensive restocking.
To facilitate contactless shopping services, mobile point-of-sale (POS) payment acceptance is becoming a popular option for curbside pickup. Convenience store operators are using hand-held mobile devices to expedite on-site payment acceptance, some of which can also accept EBT food (SNAP) payments.
Relief at the Pump: EMV Gas Pump Deadline Delayed
In some welcome news for gas station operators - in particular those who have not yet upgraded POS acceptance devices to meet EMV compliance standards - Visa just delayed the EMV gas pump deadline for U.S. domestic automated fuel dispenser (AFD) transactions until April 17, 2021. While this will be helpful for those operators not yet ready for the new standards, the risk of fraud remains. Fuel merchants should work with their payment processing providers to explore risk management solutions that are designed to proactively detect and prevent fraud activity.
Handling Cash Logistics Needs
As grocery and convenience stores see increased traffic and sales volume, keeping sufficient cash on hand has become more challenging. Armored courier services have struggled to keep up with demand. Advanced cash and logistics solutions can ensure enough cash is available when needed. Convenience store operators may need to consider services that offer smart safes, teller cash recyclers and other automated devices that enable stores to maintain optimal cash levels, while helping protecting employees from theft.
Overcoming Payroll Distribution Challenges
As stores put on additional staff to meet demands from increased traffic, payroll can present challenges and safety risks. Providing payroll cards can offer employees a way to avoid going into a bank to cash a check. Preloaded cards can streamline payroll and put money in the hands of employees quickly and safely.
Getting the Word Out is Imperative for Business
Not all consumers are thinking about convenience stores for their shopping needs. That is why getting the word out about changing store hours and the availability of expanded merchandise choices is crucial to sales. For many local community members, such as the elderly, signage and mailers are key to raising awareness.
Convenience stores remain a bright spot in the oil and gas industry, as the marketplace adapts to the constantly shifting demands of the ongoing health crisis.
If your business needs help accepting contactless payments, Contact Us or visit our Online Frontline for enterprise solutions for COVID-19 page.