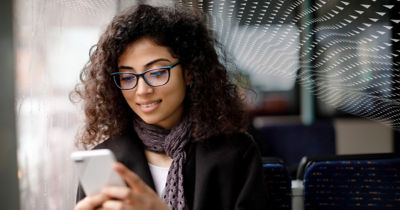 When it comes to receiving funds, consumers want speed and flexibility. Whether accepting a claim payment from an insurance company, a payout from a casino, or moving money in and out of a digital asset wallet, consumers also want choice. The good news is that we are early in the evolution of digital payouts, and businesses have the opportunity to use innovative payout schemes to truly delight customers. Case in point: Older adults have spent their lives only receiving physical checks as payouts, so the concept of moving money to them in a real-time manner may be much more appealing. Similarly, for young adults, the idea of receiving funds digitally fits into their real-world expectation for moving money quickly, but businesses can create even better experiences by adding elements of consumer choice to the equation.
Preferences in payouts
According to our most recent Carat Insights study, most consumers prefer receiving digital payouts directly to their bank accounts – because bank accounts are viewed as a secure place to store money, and a common destination for managing finances. Yet, as digital wallets become commonplace, many consumers are more than willing to receive funds in new ways. The more we research this topic with consumers, the more we find that most Americans prioritize both security and speed, and there are clear signs that generational preferences also exist. According to the same Carat Insights study, which polled more 2,200 adults in the United States, older and retired Americans are more likely to prioritize security; conversely, millennials prioritize the speed of payment delivery.
The question then becomes, what is driving the adoption of digital payouts? For consumers, the answer is clear—choice and convenience. For merchants, offering multiple payout options makes it easier to meet each customer's needs, especially when it comes to managing their personal funds. While a direct deposit to your bank account is popular, a few of the emerging payout methods we are seeing gain traction include:
Digital wallets: The use of digital wallets, such as PayPal and Venmo, continue to grow in popularity. In the future, consumers may also want payouts to land in digital asset wallets, such as a crypto account. Digital wallet payouts are particularly popular among younger Americans, and among businesses in the gaming vertical, according to Carat Insights.
Digital checks: While 17% of consumers would still prefer to receive an insurance claim payment via a check, who wants to wait around for a check to arrive in the mail? The advent of digital checks enables businesses to execute the familiar payout methods consumers prefer, but to deliver it in a faster, more convenient, and more secure manner than printing and mailing paper. 
Debit cards: Businesses that have a consumer's debit card credentials on file can quickly and easily push funds back to the consumer via their debit card, and back into the consumer's checking account.
Digital payout scenarios
Insurance
An unfortunate part of life is that accidents happen. Whether it is a fender bender, a flooded basement, or a tree falling on your house, we have all likely encountered an incident with potential for financial loss. Luckily, that is why you have insurance.
For insurance claimants experiencing a crisis, the claim process cannot move fast enough. And waiting on a claim to be reviewed and approved can be tedious. The claim must be submitted before it is reviewed, adjusted, and hopefully processed. But in many cases, days or weeks pass before funds are delivered.
So how can an instant digital payout provide relief? If a person's home is damaged beyond repair, a real-time payout can provide immediate funds for a hotel room for interim lodging. Or for insurance companies moving to approve and pay claims faster, an instant digital payout can help condense the claims process down to a matter of minutes. State Farm, for example, has launched a Digital Pay portal that has helped some of their customers submit claims, have them approved, and then receive funds in just a matter of minutes.
Speed and convenience for small businesses
For a small business owner, getting funds faster is always a priority. Same-day funding for a tattoo parlor or landscaper allows the business owner to be paid after a job is completed – so payroll can be met and bills can be paid. This instant payout for a small business expedites the funding cycle and removes the need for a business owner to wait 2-3 days to receive funds from credit card receivables.
Another small business use case could be at a pawn shop, or similar business with a high volume of B2C payments that wants to move from cash to digital money movement. In lieu of cash, digital payouts will allow the business owner to send funds to their customer via a swipe of their credit or debit card – similar to if the customer was buying something in store.
Tips, gigs and marketplaces
For anyone who works as a waiter, within the gig economy, or makes a living selling goods across marketplaces, getting paid instantly has become table stakes. Gone are the days of weekly, bi-weekly or monthly pay cycles; today's workers want to be paid now.
With a digital payout, wait staff can "tip out" instantly when their shift is over, or a gig worker delivering groceries can receive their payment when the goods are dropped off on a customer's front porch. Similarly, artisans who sell on marketplaces such as Etsy also demand the speed associated with digital payouts, and the convenience of controlling how payments are received.
For businesses in these industries, attracting top talent to work, or to sell on their marketplaces, is a prerequisite for success. And creating a better experience by expediting payouts for a job well done can be a significant differentiator.
Working with Carat
For merchants, offering innovative payout options saves money and increases customer satisfaction. According to our data, digital payouts are up to 60% less expensive than traditional checks and wires, and digital payouts can drive up to a 25% reduction in payment status inquiries.
The Carat operating system allows merchants to deploy the digital payout solutions needed to maximize efficiency and create better experiences for their customers. Carat has the size and scale to work with the world's largest enterprises, the global reach to deploy payout schemes that cross borders, and the expertise to help your business create a best-in-class payout experience that fits your business type and caters to your customers.
To learn more about our digital payout solutions, contact a Carat expert today.