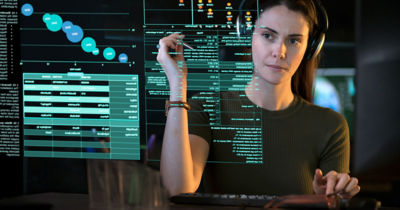 Merchants are always on the lookout for ways to strengthen relationships with customers. Rewarding customer loyalty, understanding customers, and personalizing service are just some strategies merchants use to strengthen customer ties. One of the best ways to understand customer behaviors and preferences is to take advantage of the goldmine of customer information within payment data. Whether it's fraud prevention, authorization statistics, or understanding customer demographics, payment data is a foundational tool for merchants.
In the rapidly evolving world of online commerce, merchants are leveraging new technologies designed to provide insights into each customer's unique needs. Understanding those needs and providing valuable information and content to customers helps secure positive customer experiences.
For large enterprises, Data-as-a-Service (DaaS) offers a means to seamlessly consume payment data into their systems in real-time, granting unique insights into consumer behavior that may be elusive when examining data sets in isolation. Additionally, cloud-based access to data reduces the costs associated with storage, access, and analysis. DaaS effectively dismantles silos of unstructured, semi-structured, and structured information, empowering enterprises to discover, share, and efficiently manage data at scale.
DaaS in action
There are a variety of ways that enterprises can take advantage of all the benefits that DaaS has to offer. Here are just a few examples:
Retail: Retailers see tremendous upside with DaaS, always looking for ways to improve customer engagement. Analyzing payment data helps retailers understand their customers, their preferences, which products are selling or not selling and why, and which forms of payment customers prefer. By gaining better insight into customer needs, retailers can easily share personalized offers that stand out from the competition. In addition, leveraging DaaS allows retailers to optimize inventory management.
Grocery: Like retailers, grocery stores want to know their customers and determine strategies to improve engagement. Whether measuring the impact of promotions and advertisements or streamlining the checkout process, DaaS can help. In addition, grocers can combine payment data with demographic and behavioral information to improve customer segmentation.
Gaming: Connecting with gamers can be tricky since each has unique preferences. DaaS makes it easier for gaming companies to understand transaction patterns and changing behaviors. Identifying sudden spikes in betting behaviors or customers who are betting increasing amounts can help organizations demonstrate responsible gaming.
How Carat from Fiserv and Snowflake are empowering merchants
We partner with Snowflake and together, we allow customers to store, transform, and analyze data for business insights, share mission-critical data with global stakeholders, business units, or partners, and access or share valuable third-party data as a consumer or provider.
One joint customer, a national grocery store chain, has been working closely with Carat and Snowflake to gain insights into payment data. Examining trillions of payment transactions helps the grocery store chain make more informed decisions about engaging with customers. We've been able to help this customer analyze real-time transactional data to enhance payment processing and remove the need to build ETL (extract, transform, and load) integration, which has lowered the overall cost of data ownership.
How DaaS benefits enterprises
Merchants are always on the lookout to find ways to gather greater insights through the use of data to learn more about their customers and preferences. The use of DaaS significantly improves the consumer experience by providing a better way to exchange data and provide real-time access without the costly overhead. Providing this information in a secure, cloud-based environment means enterprises can quickly and easily access and act on valuable payment data.
For Carat, offering DaaS with our partner, Snowflake, is a game-changer allowing us to meet our clients in their environment of choice through cloud provider agnostic technology.
Know thy customer
Leveraging payment data to understand customer preferences and provide actionable data helps merchants separate themselves from the competition. Understanding customer patterns, demographics, and what makes customers tick gives merchants a considerable advantage. DaaS increases cost savings and revenue for enterprises and reduces risk. These technical advances provide valuable insights that allow merchants to provide exceptional customer experiences that turn customers into loyal customers.
Connect with us today if your business wants to explore the benefits of consuming payment data into your systems to gain more significant insights.
1Source: Fiserv data