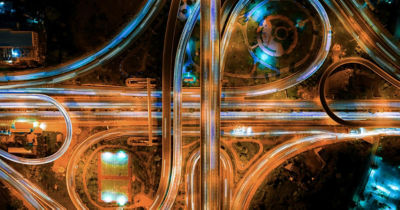 Building a global platform to unify commerce
With an intent to drive sustainable growth through simple technology, our team is committed to building the Carat Global Commerce Platform to help businesses maximize efficiency and enhance customer experiences. With that said, we know this is not an easy task. Helping our partners navigate challenging macroeconomics and evolving consumer preferences requires intentional investments in innovation.
At the macro level, inflation has slowed, but is still impacting business efficiency, global tensions persist and supply chains are brittle. Consumer spending patterns are changing too. In Q4, credit usage climbed 6.5%, (much faster than debit, which rose 2%)1, and personal savings rates neared historic lows. Consumers even shifted what they were buying – increasingly turning to experiences over physical goods. And omnichannel momentum continued to power success for big brands, with eCommerce spend jumping 11.3%1, leaving large enterprises with a need to push the digital envelope further.
Investing in our clients' success
As we look ahead, we are seeing two clear themes emerge as a focus for businesses: 1) streamlining costs, while getting the fundamentals right and 2) selective investment in experiences to keep customers engaged. And to make those two a reality, businesses need adaptable platforms that will continue to evolve as their needs do.
With that in mind, we defined three product principles for our 2023 roadmap to deliver solutions that address these priorities:
Simple
We have consistently grown our solution suite to add more value each year. Now our focus is on making those solutions and services easy to consume with a single orchestration layer and streamlined architecture. This entry point, called Commerce Hub, is where we will continue to introduce new features and functionality. Via this single orchestration layer, adding new capabilities that optimize commerce flows, enable new experiences or connect to third-party providers will be simplified – requiring less client investment while expediting the speed in which new technology can be implemented. In time, we will sunset older gateways and platforms, moving our clients to this more resilient, robust, and state-of-the-art gateway.
To support our Developer community, we are also making universal documentation, best practices, and universal APIs available on our award-winning Developer Studio to streamline integrations across solutions. Simplifying the developer experience allows businesses to realize their goals more quickly by further reducing implementation times and required investment.
Configurable
We serve some of the largest, most respected brands in the world. With that comes the challenge of managing complexities that span industries, payment networks, and international markets. These clients are telling us they do not want heavily customized solutions that are difficult to maintain over time. Rather, they want modular tech with increasing levels of configurability that can benefit from upgrades and enhanced features, and do not require ongoing investment in customized coding.
Our 2023 roadmap heavily focuses on expanding our tech stack to bring solutions to market that are highly configurable to client needs. With standardized foundations, businesses will be able to upgrade consistently and enable extensions into various use cases and channels. This includes:
Using the cloud to manage data, allowing businesses to ingest data in real-time to drive better outcomes
Managing flows associated with split-settlement to expedite funding cycles
Streamlining wallet experiences to drive more loyalty and engagement in-app
Accessing a modular fraud platform that provides more control levers in the ongoing quest to mitigate risk
Iterative
In a fast-paced world that is always demanding more, we intend to consistently deliver new features and functionality. As consumer behavior evolves, and business needs follow suit, our iterative innovation process will allow us the flexibility to adjust our delivery model as our clients encounter new challenges. As an example, today, we are investing in micro-services that enable innovative experiences and making them available within Commerce Hub's existing architecture. To that end, our product roadmap can be viewed as a living breathing plan that will evolve as we bring new innovation to market, and helping businesses adapt to a rapidly changing economy.
An ongoing heritage of innovation
Our ongoing investments in innovation build on the new capabilities we brought to market in 2022, including a best-in-class Data-as-a-Service (DaaS) solution, a customer-facing digital disbursements portal, and an enhanced version of Carat reporting and analytics. Combined with our ongoing investments in embedded payments, globalizing our payouts platform, and enabling new unified purchasing experiences that streamline everything from Buy Online Pickup in Store (BOPIS) to Apply and Buy, we are proud of how the Carat platform has evolved to date.
But most of all, we are excited for the innovation that is ahead. A tech stack that is robust, yet simple. One that addresses pain points while expediting implementation. Configurable to meet businesses goals, whether they be efficiency, expansion, or experiences. And built with our clients in mind.
To learn more, contact a Carat expert today.
1Fiserv SpendTrend® 2022 Holiday Insights Special Report