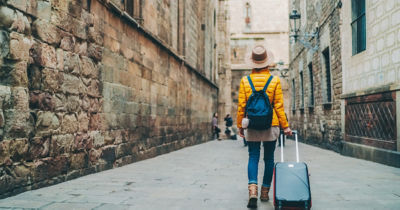 Every merchant knows that the best way to keep customers coming back is to ensure the best shopping journey – all the way down to the payment. In today's ever-evolving landscape of global and omnichannel commerce, enterprise merchants face the challenge of expanding their businesses across borders, while providing familiar, and frictionless customer experiences. An important component of the experience is currency choice. Recent studies found that 92% of customers prefer to pay in their own currency.1
However, enabling such choice is made all the more daunting because of the challenges of managing cross-border transactions, currency conversions, and pricing when operating across multiple countries, continents and currencies. Adding to the difficulties merchants face, they must also navigate a complex network of integrated platforms, services and solutions.
Fortunately, merchants can leverage global currency solutions to overcome these challenges and unlock vital new avenues of growth. In this post, we will explore how such advanced solutions can offer important capabilities, such as dynamic currency conversion (DCC), dynamic pricing, and multicurrency pricing to empower omnichannel businesses interested in generating new revenue streams, streamlining international operations, and driving success in the global marketplace. Regardless of whether you're a retail giant, a hospitality chain, or a fast-food restaurant, today's innovative global currency solutions offer important opportunities to transform your cross-border expansion strategies.
Explore Global Currency Solutions
Navigating Global Currency Challenges for Omnichannel Businesses
Expanding into international markets brings with it a unique set of currency-related challenges for any business. For omnichannel providers, in particular, there is the added burden of needing multiple regional products, or an all-encompassing solution. DCC addresses these challenges by providing merchants with a simple and transparent currency choice at the point of sale (POS). This not only reduces processing costs, but also eliminates customer confusion by displaying prices in their preferred currency. Additionally, solutions that offer dynamic pricing features can enable businesses to dynamically convert pricing into multiple currencies without the risk of foreign exchange (FX). By optimising pricing strategies in real-time, omnichannel businesses can enhance the customer experience while ensuring competitive pricing across various markets.
With a solution that offers multicurrency pricing, businesses can set pricing in multiple currencies, giving them full control over the customer experience and facilitating easier cross-border expansion. With the right global currency solution, omnichannel businesses can navigate the intricacies of global currency management and leverage the power of streamlined operations and enhanced customer experiences for sustainable growth.
Currency Choice is Key to a Good Customer Experience
By offering customers a simple and transparent currency choice at the point of sale (POS), DCC revolutionises the customer experience in cross-border transactions. With DCC, customers can pay in their preferred currency, eliminating confusion and providing a familiar purchasing environment. This level of transparency builds trust with the consumer and enhances customer satisfaction, leading to increased conversion rates and repeat business. Furthermore, DCC reduces processing costs for businesses, ensuring a seamless and cost-effective transaction process. By integrating DCC into operations, omnichannel businesses can transform the way customers engage with their brand, paving the way for enhanced global expansion and success in the highly competitive landscape of international commerce.
A good example of how effective this solution can be is found in the case of a global brick and mortar merchant who increased sales by 90% and generated over $10m in revenue and savings by integrating DCC into their international expansion plans.2
Optimising Pricing Strategies with Dynamic Pricing
A global currency solution that offers dynamic pricing can empower omnichannel businesses to optimise their pricing strategies across multiple currencies. With dynamic pricing, businesses can dynamically convert pricing into different currencies in real-time, without exposing themselves to foreign exchange risks. This flexibility enables businesses to stay competitive in highly-diverse markets, adapt to currency fluctuations, and seize revenue-boosting opportunities. By offering personalised and localised pricing, businesses can cater to the preferences and purchasing power of customers in specific regions.
Moreover, dynamic pricing can provide guaranteed rates for extended periods, ensuring consistency and reliability in pricing for customers. With the power of dynamic pricing in their arsenal, omnichannel businesses can confidently navigate the global marketplace, capture new customers, and drive revenue growth through optimised pricing strategies.
The successful use of dynamic pricing is illustrated in this example of an eCommerce merchant who was able to expand to 70+ currencies, thus reducing costs of 75,000 transactions and increasing revenue by $150,000 across all of their eCommerce stores.2
Seamless Cross-Border Expansion with Multicurrency Pricing
Another important capability of global currency solutions is multicurrency pricing, which can enable omnichannel businesses to set pricing in multiple currencies and maintain full control over the customer experience. With multicurrency pricing, merchants can easily adapt their pricing strategies to different markets, taking into account factors such as purchasing power and local competition. This level of customisation not only improves customer satisfaction, but also facilitates easier cross-border expansion. By offering localised pricing, businesses can break down one of the prime barriers to a purchase – forcing the customer to make a purchase in a currency that is not preferred. This game-changing solution overcomes this challenge, which is associated with international transactions, making it more enticing for customers to purchase their products or services. Additionally, multicurrency pricing provides merchants with the freedom to expand into new markets with confidence, knowing they can maintain control over pricing while delivering a seamless shopping experience to customers around the world. With multicurrency pricing as part of a global currency solution, omnichannel businesses can tap into new opportunities, broaden their customer base, and accelerate growth in the global marketplace.
In another example, one merchant's use of a multicurrency pricing solution has proven invaluable. This merchant expanded into three new markets, increased cross-border sales by 60%, and generated $50m+ in top-line revenue.2
Unlocking Growth and Competitive Advantage with Global Currency Solutions
A global currency solution can offer international enterprise merchants a powerful tool for unlocking new growth opportunities and gaining a competitive advantage in the global market. The speed of integration offered by DCC allows businesses to expand their product functionality quickly through a single application programming interface (API) and integration point. This seamless integration minimises disruption and enables merchants to enhance their customer experiences efficiently.
Carat from Fiserv offers a suite of best-in-class global currency solutions with DCC, dynamic pricing, and multicurrency pricing. Carat's DCC is the first fully transparent FX marketplace, offering enhanced functionality, including guaranteed rates for extended periods. This transparency builds trust with customers and reinforces the value of seamless and secure transactions. Additionally, the flexibility of Carat's solutions enable businesses to leverage DCC for corporate and other treasury services, while selecting their preferred foreign exchange provider. By choosing Carat's Global Currency solutions, enterprise merchants can unleash the full potential of their cross-border expansion strategies, capitalise on new market opportunities, and achieve sustainable growth in the dynamic world of global commerce.
Learn more about Fiserv's global currency solutions or contact us today to discuss how to unlock global growth opportunities for your omnichannel business.
Sources:
1: Shopify - Everything You Need to Sell Worldwide: How to Build Your International Expansion Strategy from A Single Store
2: Fiserv Internal Statistics